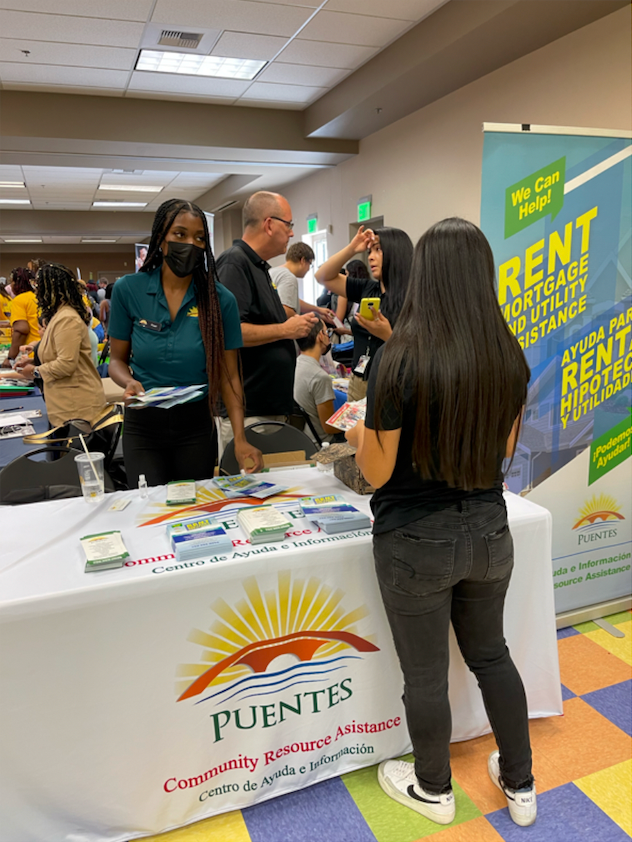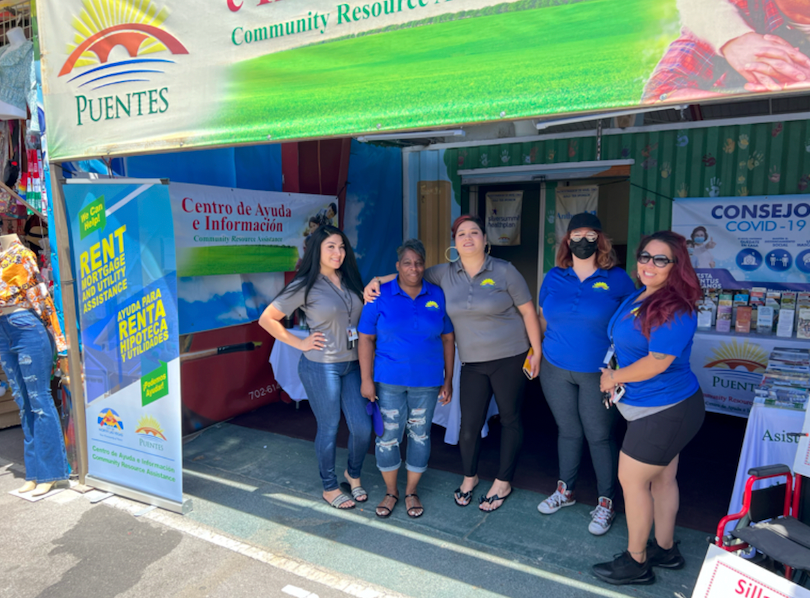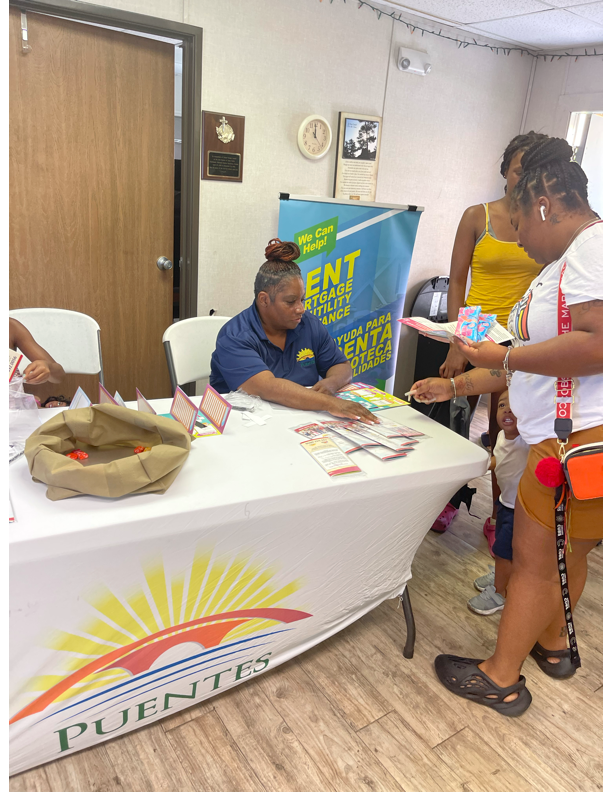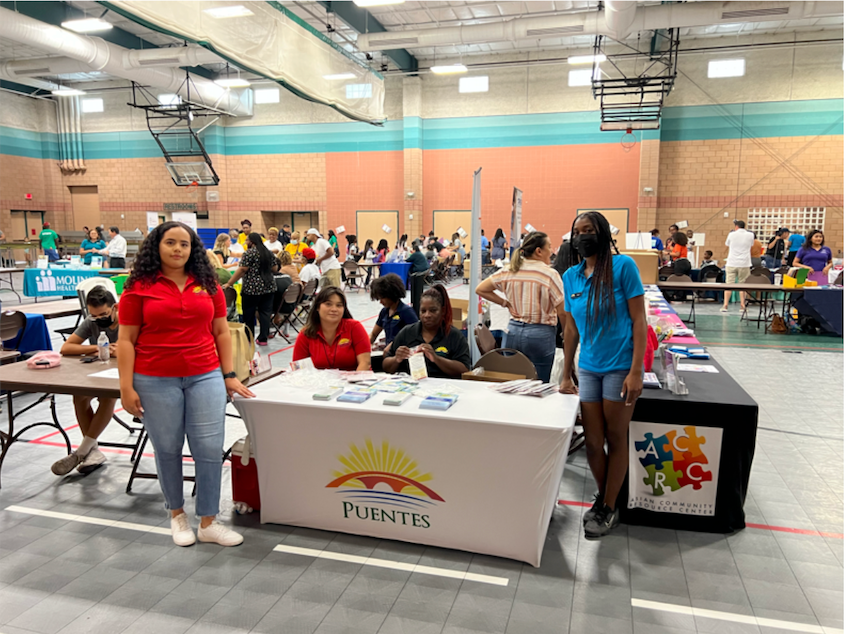 What We Do
Since it began offering services on May 5th of 2019, Puentes has evolved from the simple coordination and delivery of social services to the development of comprehensive, collaborative and culturally competent health and wellness solutions. Following are some of the services, programs and initiatives in which Puentes has had a leading role.
​
Services, Projects and Initiatives
Health Equity

Advancing health equity in distrustful communities is a profound challenge that involves many sectors and extends beyond the reach of traditional heath care settings.  Social determinants of health (SDOH) are a major contributor to health disparities and operate on a continuum from fundamental structural causes to individual and family circumstances.  Through our direct, culturally and linguistically responsive street-level engagement, Puentes has taken a leading role in addressing systemic and structural inequity.  In late 2022,  we distributed over 500 vouchers for free primary and preventative care visits to individuals who were hesitant to seek care.  Feedback from patients clearly disputed many of the assumptions regarding barriers to healthcare, providing data invaluable in forming a contextualized response.
Housing

In 2022, through various programs and grants, Puentes distributed over $500,000 in assistance to families facing eviction.  Through those efforts, we became aware of the importance of addressing the many sectors that affect families at high risk of becoming homeless, or those who have sadly already lost their homes.  Accordingly, our housing program has expanded to include enhanced coordinated support encompassing relocation assistance, legal assistance, education, employment, financial counseling, social services navigation, food and basic necessities, health services, both medical and emotional, child development and physical and social environments.
Furniture Distribution

Through our experience transitioning families from homelessness, we became aware of many gaps in support programs that left much to be addressed, including, for many families, basic furnishings and household items.  Indeed, many of the families we relocated found themselves sleeping on the floor, without a chair, table or in some cases a pot to cook in or a plate to eat from.  Through partnership with a company that provides liquidation services to upscale resort properties undergoing renovation we have recently introduced a program through which families in need can receive free furniture.  Inventory varies, but has included sofa beds, occasional chairs, king and queen mattresses and box springs, and outdoor chairs that could well be used indoors.  Everything is commercial grade and in excellent condition.  Currently, we are accommodating pick ups but are working on providing delivery services.  We are pleased to make bulk shipments available to non-profit shelters and other community based organizations wanting to support the families they serve.
Community Outreach

In 2022, Puentes conducted 785 outreach events, all within our most vulnerable communities.  These events varied from pop-ups, to Greet, Eat and Meet (GEM) events, to full resource fairs that often included vaccinations and other medical support.   Since May of 2019, we have occupied a permanent booth (#74) at Broadacres Marketplace, 2930 North Las Vegas Blvd, Booth #74.  Broadacres is a very popular destination for Latino residents with a wide variety of vendors and events, drawing in excess of one million visitors a year and continues to be a major platform for our community outreach.
COVID-19 Patient Support Center

In early April of 2020, the Las Vegas medical community expressed a concern in regard to the ongoing care of COVID-19 positive patients who are being discharged to home, when stable, from the hospital.  Although these are on the surface, were less pressing patients than those that become hospitalized, from an epidemiological standpoint, they were a far greater threat to the health of the community. The problem becomes, that when these patients were quarantined at home, many of them ventured out for food, essentials, or face other pressures which forced them not to maintain quarantine. This, in turn, put other uninfected members of the community at risk. 

 

This concern was expressed to the Southern Nevada Health District (SNHD), who in turn contacted Puentes for assistance. In response, in collaboration with the Nevada Hispanic Legislative Caucus COVID-19 Task Force, Mi Familia Vota, the UNLV School of Medicine, Leaders In Training (LIT) and LaBonita Markets the COVID-19 Patient Support Center was established.

 

The Center was developed to facilitate, to the greatest extent, the quarantine that COVID-19 positive, presumptive positive and other immunocompromised patients were asked to maintain.  During this project, we collectively delivered 279,000 free meals, cleaning and medical supplies, as well as, in partnership with the UNLV School of Medicine, provide ongoing medical wellness checks to monitor the health and establish what resources patients and other family members in the home required to maintain in their homes, preventing the need for these patients to venture out and hence help reduce community spread.
CURE

The Collaborative Unification of Resources and Efforts (CURE) initiative is a major collaborative project that began in early 2020. The goal was the development of a holistic, provider/resource network model that sought to provide permanent, sustainable solutions by addressing root social determinants including education, income and wealth, employment, health systems and services, housing, the physical environment, transportation, the social environment, and public safety.  True to the CURE model, to this date, Puentes programs continue to be developed in the spirit of collaboration, having built a network of some 500 individuals from over 100 agencies and organizations.
Affiliations

Puentes currently sits on several committees engaged in a variety of initiatives within under-served communities, including:

Chair, Medical, Dental, Vision and Behavioral Health Task Force, UNLV School of Medicine Mobile Health Collaborative (MHC).
Nevada Hispanic Legislative Caucus (NHLC) COVID-19 Task Force
NHLC Nevada Latinos Health Services Sub-Committee
Nevada Office of Minority Health and Equity
Nevada Minority Health and Equity Coalition
2020 Census Complete Count Committee
Nevada Hispanic Legislative Caucus (NHLC) COVID-19 Task Force.
Latino Network of Southern Nevada.
Esta En Tus Manos Task Force
Nevada Vaccine Equity Coalition
FBI Las Vegas Citizens Academy Alumni Association  (Guy Girardin, Class of 2021)
Silversummit Healthplan Physician Advisory Board
UNLV Department of Brain Health, Cognitive Aging and Neuropsychological Equity Lab, Community Advisory Board
United Way of Southern Nevada, Emergency Food and Shelter (EFSP) Local Recipient Organization (LRO)